Magnolia Hall
Rehabilitation and Nursing Center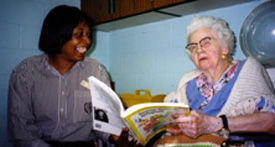 Answering a community need since 1970


Mission Statement
To provide health care services necessary to meet the individual needs of residents and their families, as well as the community's, by assisting residents to achieve and maintain their highest practical level of well-being while at the same time maintaining measurable standards of excellence in their delivery.

General information
Magnolia Hall Rehabilitation and Nursing Center offers a full range of high quality services and therapies designed to help residents reach and maintain the highest level of independent living and quality of life. The Center is dedicated to meeting individual care needs with consistency, warmth and respect. Care is provided by a friendly professional staff that is dedicated to ensuring the well being, privacy and dignity of the residents.

The Center is licensed by the Department of Health and Mental Hygiene as a comprehensive health care facility providing skilled/intermediate care to private pay, hospice, Medicare, private insurance, HMO, Medicaid and Veteran's Administration patients. It has 94 licensed skilled/intermediate beds and 3 assisted living beds.

Magnolia Hall is a public non-profit corporation that offers long-term care, short-term rehabilitation care, assisted living care, and hospice care and respite care. It does not discriminate against anyone on the basis of race, color, age, national origin, sex, religion or disability.

Annual Survey
The results of the most recent survey are posted in the facility.


Magnolia Hall
200 Morgnec Road
Chestertown, MD 21620
(410)-778-4550
TTY (410) 778-9753
magnoliahall@crosslink.net or maghall@crosslink.net