Home Care & Hospice



Chester River Home Care & Hospice is a Medicare-certified, state-licensed home care and hospice agency serving Kent and Queen Anne`s Counties.

We specialize in providing tender, compassionate care in the comfort of your home.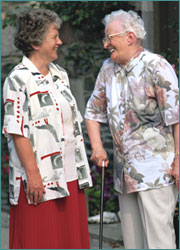 Home Care Services
The home care program offers comprehensive nursing and rehabilitation services to individuals in their home after an accident, illness or surgery. A personal treatment program is developed in consultation with the patient`s physician. A physician`s referral is required.

Hospice Services
The hospice program offers dignified, comprehensive, personalized care and outreach to patients and their families during the final stages of life.

Chester River Home Care & Hospice provides clinical services including but not limited to psychological, bereavement, outreach and spiritual care for hospice patients. A physician`s referral is required.

The Hospice Suite at Chester River Manor
Being at home, in familiar surroundings and with family and friends, is the wish of every hospice patient. But for those who have no caregiver or whose caregiver is no longer able to care for them, a hospice room can be a home away from home.
What Makes a Hospice Room a Home?
A hospice room is quite simply a home away from home, a place where hospice patients can reside with dignity while benefiting from a full team of nurses, aides and hospice volunteers who become like a second family.

Hospice rooms are furnished with home-like furniture, not hospital beds or monitors. Photographs of loved ones cover the walls, and personal mementos fill the room.
Staff & Support
The Hospice Suite at Chester River Manor is staffed by registered nurses and physicians, available 24-hours-a-day, 7-days-a-week. Volunteers are available to provide needed companionship.

Hospice Suite residents are provided with the same hospice services they receive at home, including laundry, food and recreation services. All services for the suite are covered by insurance plans as well as private donations, making it easier for patients and their families to enjoy their last days and weeks together.

Personal Care Services
Designed to help individuals with their daily care and activities, the personal care program also offers physical therapy, occupational therapy and nursing visits. A physician referral is NOT required for personal care services.

Lifeline
Do you worry about what might happen if you or a loved one needed help but couldn''t reach the telephone? Chester River Home Care & Hospice offers a Lifeline.
Lifeline is a personal response service that enables people with limited mobility who live at home to get quick assistance, any time of day or night, simply by pressing a personal help button worn as a pendant or wristband.

Referrals & Insurance
Coverage Patients require a physician referral for all home care and hospice services. Chester River Home Care & Hospice can assist in obtaining this referral. Services provided by Chester River Home Care & Hospice are covered by most insurance carriers including HMOs, PPOs, Medicare, Medicaid and Worker`s Compensation.

Admission & Information
To request more information about any of the home care or hospice services offered by Chester River Home Care & Hospice, or to request services, call 410-778-1049, 410-758-3238 or toll-free 877-778-1049.