Chester River Hospital Center
Recent News
Morphy Joins Hospital Staff
Heather Morphy, M.D., a family practitioner, has joined the medical staff of Chester River Hospital Center. She has also joined Drs. Wayne Benjamin and Frederick Delboy's family medicine practice located in the Roundtop Professional Building in Kingstown.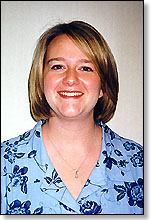 Dr. Morphy earned her bachelors of science degree from the University of Rochester and her medical degree from Columbia College of Physicians and Surgeons in New York City. For the past three years she has lived and worked in her hometown of Pittsburgh, Pennsylvania as she completed her family practice residency at University of Pittsburgh Medical Center St. Margaret Hospital.
Her particular interests within the field of family medicine are geriatric and women's health medicine.
Dr. Morphy's and her husband, Ken Wilson who works as a consultant for Ernst & Young, are the parents of a five-month-old daughter. She spent her junior of undergraduate school studying biochemistry at Oxford University, where she became interested in rowing, an interest she hopes to pursue again on the Chester River.
-BACK-